AMA-PTA (Medical Device License Number 05-945)
Autumated Micro Audiometer – Pure Tone Audiometry
01 Summary
AMA-PTA : Pure tone audiometry equipment controlled by computer
Automatic/manual testing provided with tinnitus examination
Special examinations are available (SISI testing, complex tinnitus testing, osteotome testing etc)
6 – 11 frequency pure tone audiometry
17-134 frequency micro-audiometry is possible
02 Features
AMA-PTA elicit real time responses from a patient and provide with the next testing tone
Improving the credibility by carrying out 3-5 repeated testing at hearing threshold
The whole process is time-efficient and auto-controlled by computer algorithm which results in accurate outcome
03 Medical Device Authorization
Manufacturing Item License Number : 05-945 (a second-class medical device)
Purpose of use : Hearing test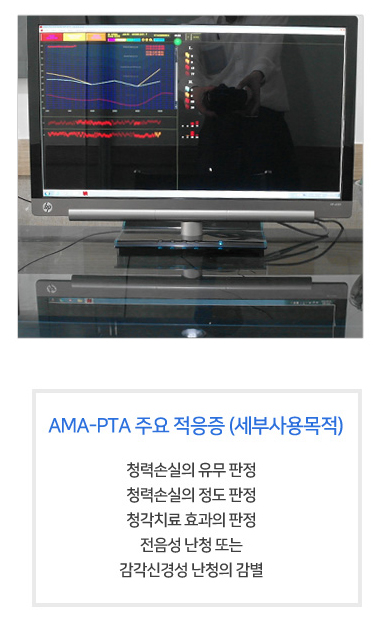 REVE134 (Medical Device License Number 08-401)
REVE134 Signal Generator in Multi-Channel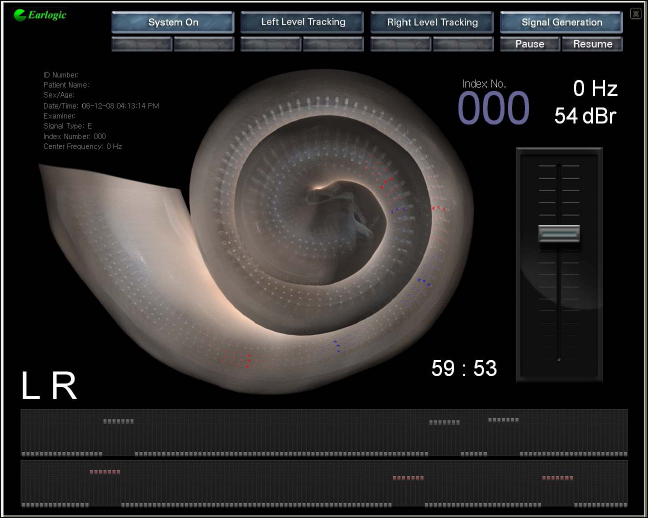 01 Summary
Reve 134 stimulates each frequency in auditory sense and elicit auditory responses
It's the sound stimulation equipment that stimulates 134 frequencies in a cochlea.
It is a tinnitus application noise generator for multi-channel tinnitus treatment (tinnitus active therapy). It is divided into usage of medical (for the clinic) and personal
02 Features
The technology has been patented < No. 1009638880000> in the USA, Japan, China, Europe and etc.
Health Industry Promotion Agency under the Ministry of Health and Welfare (http://technomart.khidi.or.kr) Recommendation Technology <Hair cell of cochlea activation technology by high resolution medium frequency stimulation>
US clinical trials have been conducted and the technology has been verified <NCT001184248>
The sound generator based on 3 dimension cochlea
134-band high-resolution tracking of the hearing loss frequency band and the frequency band for which tinnitus occurred
03 Medical Device Authorization
Manufacturing Item License Number : 08-401 (a second-class medical device)
Purpose of use : Stimulator for universal stimulus response, tinnitus application noise generator
01 What is hearing aid?
A hearing aid is a device designed to improve hearing by making sound audible to a person with hearing loss. The device helps a partially deaf person hear better and clearer by amplifying sound.
02 The difference between regular hearing aid and TSC hearing aid
TSC hearing aids is a medical device that does the same job as any regular hearing aids. It amplifies sounds so that a person with hearing loss can hear better. The difference is that TSC hearing aids not only amplify the sound, but also improve the hearing condition itself.
03 What is TSC?
TSC stands for Threshold sound conditioning. This is a new technology that can improve hearing of humans fundamentally by providing the smallest sound energy(threshold) which stimulates auditory neurons in hearing system. Usually 7-8 out of 10 people with hearing problems can improve their hearing by using devices with TSC technology including TSC hearing aids.